Overview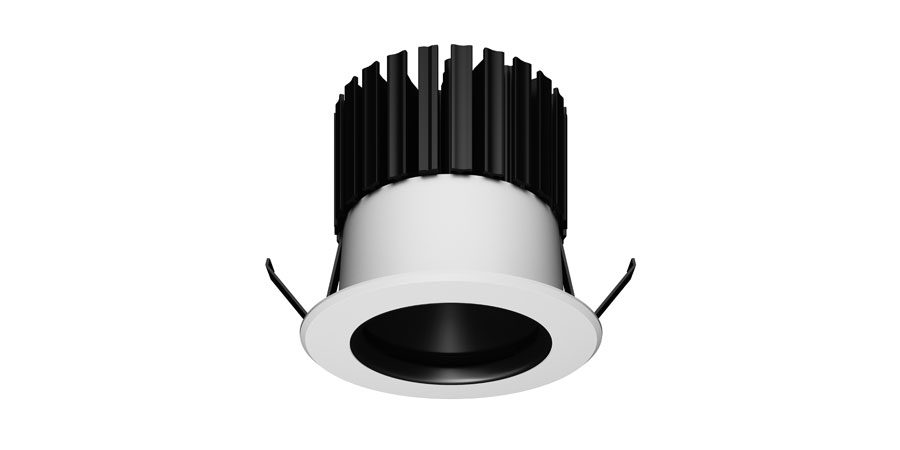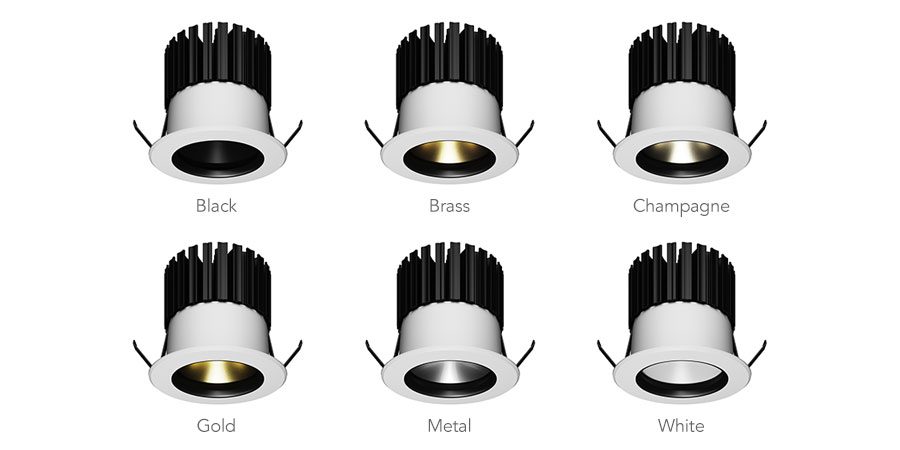 Product Description
Flex by name and Flex by design. The Flex Fixed 70 luminaire is the most versatile high performance spotlight luminaire available.
Presenting in a sleek minimalist style, the Flex Fixed 70 modern grooved housing is made from materials with heat sinking properties.
It is available with variable output technology to optimise performance to exact project requirements.
Product Details
| | |
| --- | --- |
| Absolute luminous flux | 505lm – 1673lm |
| System watts | 8W / 10W / 12W / 14W / 16W / 18W / 20W |
| Luminaire efficacy | up to 90lm/W |
| Colour deviation | 2 SDCM |
| Colour rendition Index | >95 |
| Correlated colour temperature | 3000K / 4000K |
| Lumen maintenance | L90B10 90,000hours |
| Dimming method | Trailing Edge / DALI / Casambi |
| Optic | Aluminium reflector |
| Beam angle | 46° / 72° / 67°x 80° |
| Luminaire housing | Aluminium |
| Luminaire housing colour | Black / White / Silver / Custom |
| Luminaire baffle colour | Black |
| Custom body finishes | Custom powdercoat colour |
| Country of origin | Australia |
Codes & Downloads
| Non Dimmable | TRAILING EDGE DIMMABLE | DALI Dimmable | Casambi Dimmable | Beam Angle | CCT | Lumens | Watts |
| --- | --- | --- | --- | --- | --- | --- | --- |
| FFR70.200.46.93.61 | FFR70.200.46.93.63 | FFR70.200.46.93.66 | FFR70.200.46.93.68 | 46° | 3000K | 699 | 8 |
| FFR70.200.46.94.61 | FFR70.200.46.94.63 | FFR70.200.46.94.66 | FFR70.200.46.94.68 | 46° | 4000K | 765 | 8 |
| FFR70.200.72.93.61 | FFR70.200.72.93.63 | FFR70.200.72.93.66 | FFR70.200.72.93.68 | 72° | 3000K | 635 | 8 |
| FFR70.200.72.94.61 | FFR70.200.72.94.63 | FFR70.200.72.94.66 | FFR70.200.72.94.68 | 72° | 4000K | 695 | 8 |
| FFR70.200.OV.93.61 | FFR70.200.OV.93.63 | FFR70.200.OV.93.66 | FFR70.200.OV.93.68 | 67° x 80° | 3000K | 505 | 8 |
| FFR70.200.OV.94.61 | FFR70.200.OV.94.63 | FFR70.200.OV.94.66 | FFR70.200.OV.94.68 | 67° x 80° | 4000K | 553 | 8 |
| Non Dimmable | TRAILING EDGE DIMMABLE | DALI Dimmable | Casambi Dimmable | Beam Angle | CCT | Lumens | Watts |
| --- | --- | --- | --- | --- | --- | --- | --- |
| FFR70.250.46.93.61 | FFR70.250.46.93.63 | FFR70.250.46.93.66 | FFR70.250.46.93.68 | 46° | 3000K | 865 | 10 |
| FFR70.250.46.94.61 | FFR70.250.46.94.63 | FFR70.250.46.94.66 | FFR70.250.46.94.68 | 46° | 4000K | 946 | 10 |
| FFR70.250.72.93.61 | FFR70.250.72.93.63 | FFR70.250.72.93.66 | FFR70.250.72.93.68 | 72° | 3000K | 790 | 10 |
| FFR70.250.72.94.61 | FFR70.250.72.94.63 | FFR70.250.72.94.66 | FFR70.250.72.94.68 | 72° | 4000K | 864 | 10 |
| FFR70.250.OV.93.61 | FFR70.250.OV.93.63 | FFR70.250.OV.93.66 | FFR70.250.OV.93.68 | 67° x 80° | 3000K | 621 | 10 |
| FFR70.250.OV.94.61 | FFR70.250.OV.94.63 | FFR70.250.OV.94.66 | FFR70.250.OV.94.68 | 67° x 80° | 4000K | 679 | 10 |
| Non Dimmable | TRAILING EDGE DIMMABLE | DALI Dimmable | Casambi Dimmable | Beam Angle | CCT | Lumens | Watts |
| --- | --- | --- | --- | --- | --- | --- | --- |
| FFR70.300.46.93.61 | FFR70.300.46.93.63 | FFR70.300.46.93.66 | FFR70.300.46.93.68 | 46° | 3000K | 992 | 12 |
| FFR70.300..46.94.61 | FFR70.300.46.94.63 | FFR70.300.46.94.66 | FFR70.300.46.94.68 | 46° | 4000K | 1085 | 12 |
| FFR70.300.72.93.61 | FFR70.300.72.93.63 | FFR70.300.72.93.66 | FFR70.300.72.93.68 | 72° | 3000K | 910 | 12 |
| FFR70.300.72.94.61 | FFR70.300.72.94.63 | FFR70.300.72.94.66 | FFR70.300.72.94.68 | 72° | 4000K | 995 | 12 |
| FFR70.300.OV.93.61 | FFR70.300.OV.93.63 | FFR70.300.OV.93.66 | FFR70.300.OV.93.68 | 67° x 80° | 3000K | 735 | 12 |
| FFR70.300.OV.94.61 | FFR70.300.OV.94.63 | FFR70.300.OV.94.66 | FFR70.300.OV.94.68 | 67° x 80° | 4000K | 804 | 12 |
| Non Dimmable | TRAILING EDGE DIMMABLE | DALI Dimmable | Casambi Dimmable | Beam Angle | CCT | Lumens | Watts |
| --- | --- | --- | --- | --- | --- | --- | --- |
| FFR70.350.46.93.61 | FFR70.350.46.93.63 | FFR70.350.46.93.66 | FFR70.350.46.93.68 | 46° | 3000K | 1128 | 14 |
| FFR70.350.46.94.61 | FFR70.350.46.94.63 | FFR70.350.46.94.66 | FFR70.350.46.94.68 | 46° | 4000K | 1234 | 14 |
| FFR70.350.72.93.61 | FFR70.350.72.93.63 | FFR70.350.72.93.66 | FFR70.350.72.93.68 | 72° | 3000K | 1032 | 14 |
| FFR70.350.72.94.61 | FFR70.350.72.94.63 | FFR70.350.72.94.66 | FFR70.350.72.94.68 | 72° | 4000K | 1129 | 14 |
| FFR70.350.OV.93.61 | FFR70.350.OV.93.63 | FFR70.350.OV.93.66 | FFR70.350.OV.93.68 | 67° x 80° | 3000K | 846 | 14 |
| FFR70.350.OV.94.61 | FFR70.350.OV.94.63 | FFR70.350.OV.94.66 | FFR70.350.OV.94.68 | 67° x 80° | 4000K | 925 | 14 |
| Non Dimmable | TRAILING EDGE DIMMABLE | DALI Dimmable | Casambi Dimmable | Beam Angle | CCT | Lumens | Watts |
| --- | --- | --- | --- | --- | --- | --- | --- |
| FFR70.400.46.93.61 | FFR70.400.46.93.63 | FFR70.400.46.93.66 | FFR70.400.46.93.68 | 46° | 3000K | 1292 | 16 |
| FFR70.400.46.94.61 | FFR70.400.46.94.63 | FFR70.400.46.94.66 | FFR70.400.46.94.68 | 46° | 4000K | 1414 | 16 |
| FFR70.400.72.93.61 | FFR70.400.72.93.63 | FFR70.400.72.93.66 | FFR70.400.72.93.68 | 72° | 3000K | 1188 | 16 |
| FFR70.400.72.94.61 | FFR70.400.72.94.63 | FFR70.400.72.94.66 | FFR70.400.72.94.68 | 72° | 4000K | 1300 | 16 |
| FFR70.400.OV.93.61 | FFR70.400.OV.93.63 | FFR70.400.OV.93.66 | FFR70.400.OV.93.68 | 67° x 80° | 3000K | 846 | 16 |
| FFR70.400.OV.94.61 | FFR70.400.OV.94.63 | FFR70.400.OV.94.66 | FFR70.400.OV.94.68 | 67° x 80° | 4000K | 1042 | 16 |
| Non Dimmable | TRAILING EDGE DIMMABLE | DALI Dimmable | Casambi Dimmable | Beam Angle | CCT | Lumens | Watts |
| --- | --- | --- | --- | --- | --- | --- | --- |
| FFR70.450.46.93.61 | FFR70.450.46.93.63 | FFR70.450.46.93.66 | FFR70.450.46.93.68 | 46° | 3000K | 1418 | 18 |
| FFR70.450.46.94.61 | FFR70.450.46.94.63 | FFR70.450.46.94.66 | FFR70.450.46.94.68 | 46° | 4000K | 1553 | 18 |
| FFR70.450.72.93.61 | FFR70.450.72.93.63 | FFR70.450.72.93.66 | FFR70.450.72.93.68 | 72° | 3000K | 1302 | 18 |
| FFR70.450.72.94.61 | FFR70.450.72.94.63 | FFR70.450.72.94.66 | FFR70.450.72.94.68 | 72° | 4000K | 1426 | 18 |
| FFR70.450.OV.93.61 | FFR70.450.OV.93.63 | FFR70.450.OV.93.66 | FFR70.450.OV.93.68 | 67° x 80° | 3000K | 1058 | 18 |
| FFR70.450.OV.94.61 | FFR70.450.OV.94.63 | FFR70.450.OV.94.66 | FFR70.450.OV.94.68 | 67° x 80° | 4000K | 1158 | 18 |
| Non Dimmable | TRAILING EDGE DIMMABLE | DALI Dimmable | Casambi Dimmable | Beam Angle | CCT | Lumens | Watts |
| --- | --- | --- | --- | --- | --- | --- | --- |
| FFR70.500.46.93.61 | FFR70.500.46.93.63 | FFR70.500.46.93.66 | FFR70.500.46.93.68 | 46° | 3000K | 1350 | 20 |
| FFR70.500.46.94.61 | FFR70.500.46.94.63 | FFR70.500.46.94.66 | FFR70.500.46.94.68 | 46° | 4000K | 1673 | 20 |
| FFR70.500.72.93.61 | FFR70.500.72.93.63 | FFR70.500.72.93.66 | FFR70.500.72.93.68 | 72° | 3000K | 1412 | 20 |
| FFR70.500.72.94.61 | FFR70.500.72.94.63 | FFR70.500.72.94.66 | FFR70.500.72.94.68 | 72° | 4000K | 1544 | 20 |
| FFR70.500.OV.93.61 | FFR70.500.OV.93.63 | FFR70.500.OV.93.66 | FFR70.500.OV.93.68 | 67° x 80° | 3000K | 1161 | 20 |
| FFR70.500.OV.94.61 | FFR70.500.OV.94.63 | FFR70.500.OV.94.66 | FFR70.500.OV.94.68 | 67° x 80° | 4000K | 1269 | 20 |
For more details, download the FLEX FIXED 70 | REFLECTOR information sheet